Our Nowt Poncy® sauces are made with love and with care
There is nothing quite like reproducing the flavour's of far-off places you have visited when you're back home. It brings back so many memories of aromas, places visited and, of course, the local food. For us here at Nowt Poncy®, it has to be simple and delicious. We want it to be authentic, just like the locals make it – nutritious, without nasty preservatives, as healthy as possible and we don't want to spend hours preparing it either. Just open it up, stick it in a pan, heat it and add to our favourite pasta or ingredients. You can rustle up a fab meal in under twenty minutes that's easy on the calories and huge on flavour.
We want all the whole family to be able to eat and enjoy it and ask when they can have it again. Believe it or not children LOVE our curry sauce – you'll be so surprised when they scoff the lot.
Our Nowt Poncy® sauces are made with love and with care. We use them too so we want every jar to invade our senses and remind us of those lazy days away. They are hand cooked to maintain flavour and consistency and we use herbs like basil and oregano and we won't compromise on quality or flavour. We want our sauces to be low in calories, salt, fat, sugar, saturated fat AND still taste amazing! We also want them to be vegetarian and vegan friendly and suitable for kids and adults alike!
Our sauces are good honest food made with great ingredients  and sourced from small business and suppliers wherever possible. We want our sauces to be available to as many people as possible, which is why we are aiming to make amazingly tasty products (that are also gluten free) and to make them vegetarian and vegan friendly too.
Kids LOVE 'em!  You can be sure they will scoff the lot!
Karen:
Likes to let Jools think he's the boss but she knows otherwise.
Likes: Kindness, reading – getting into a really good book and not wanting to put it down, writing, crafting, spending time with Jools, watching a soppy movie, going to watch the Typhoons and trying to disown Jools as he screams on the side-line, cuddling up with Rags and Rosie – our cats, travelling the world, horse riding in Wyoming with our wonderful friend Ellen, visiting family, our house, eating anything Jools cooks and watching the Oscars with our friend Ellen on the other end of the phone in New York.
Dislikes: liars, bullies and people who take advantage of others
Food Heroes: Jools and Julia Child
Fave Car: my first car – a Fiat 500, bright blue, tons of character and mechanical issues! Always had to travel with spare elastic bands, but that's a story for another time!!!!!
Trained As: A teacher. Taught in Primary Education for 11 years and then transferred to Secondary Special Ed. Worked in Special Ed until I left the teaching profession in 2015.
Fav TV: West Wing, M.A.S.H., Life on Mars, Ashes to Ashes and my guilty pleasure is Gogglebox.
Fav Music: George Michael, The Beatles, (selected) Pink Floyd, War of the Worlds, anything with a great dance beat!
Fav Films: Shawshank Redemption, Galaxy Quest, anything Star Trek, a good old soppy rom com (The Holiday, The Notebook, Doc Hollywood, etc., etc., etc.), Julie and Julia, The Jason Bourne Trilogy (or is it 4 now?), I could go on and on, I LOVE FILMS!
Fav Restaurant: The Ship on the Shore and the Secret Garden at The Wytchery  – both in Edinburgh, The Codfather in Cape Town and the wooden platform we ate on the beach on on Meedhupparu, The Maldives served by staff at the Sufura Restaurant
Best bit of food tech: Pat & Barb, our steam jacketed vessels (named after our mums, as they are a couple of old boilers!) and Larry the Labelling Machine! But don't tell Fred and Freda the Fridge and Freezer and Elsa the large freezer ('cos she won't 'Let It Go!') or Johnnie Dep(ositor) or Big Bertha the 150 litre steam jacketed vessel, Sid the Sealer, Harry Hobart the dishwasher, Pete the Pallet Truck or Bob the Blast Chiller! It's a hoot at NPHQ!!
Fave Saying: 'Everybody is a genius. But if you judge a fish by its ability to climb a tree, it will live its whole life believing that it is stupid' Albert Einstein, (closely followed by 'Jools, what the hell are you doing that for?').
Highlights so far: starting Nowt Poncy – what an adventure it has been so far, building our kitchen, working with amazing small artisan producers, learning a whole new set of skills.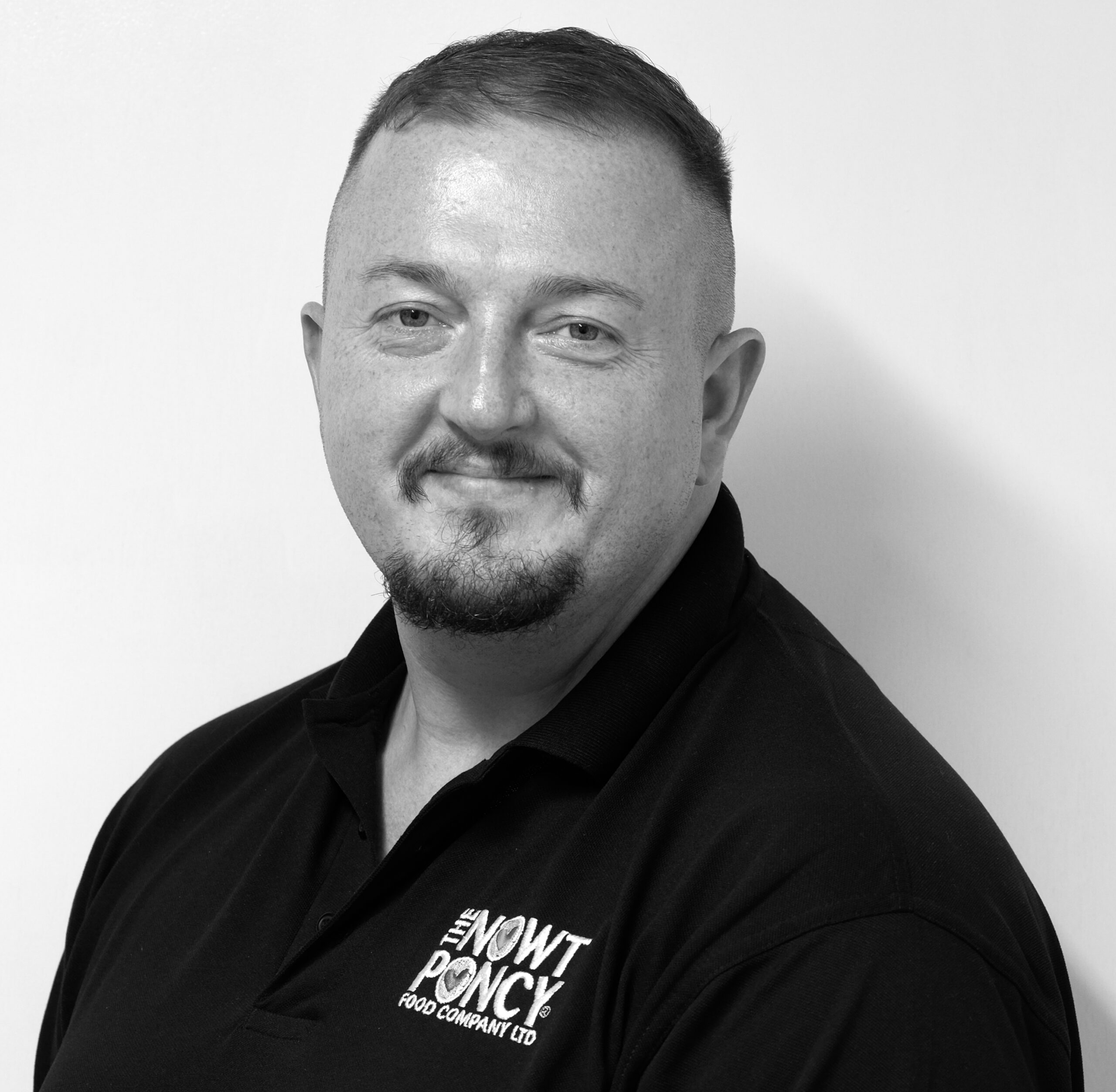 A keen rugby player and passionate gin drinker.
Likes:- To explore new places and experiences, meet new people and share adventures which memories will last a lifetime.
Dislikes:- The British weather, traffic, dysfunctional customer service, overcharging for food and drinks! Poorly made gin and tonic.
Food Hero's:- Marco Pierre White, Heston Blumenthal.
Fav Car:- Audi A3
Trained as:- Hospitality Management.
Fave Tv:- Star trek old and new! Many shows on Netflix or Amazon Prime, the list goes on….
Fave Music:- Cher, Adele, Madonna, Kylie, timeless Divas, 90's dance and pop, current dance music. My taste can be random.
Fave Restaurant:- This is difficult as I have eaten in so many over the years! Love a good old-fashioned gastro country pub or any with a stunning sea view!
Best bit of food tech:- My Nespresso coffee machine, can't start my day with out one!
Fave Saying:- Don't let the perfect get in the way of the good.
Fav films:- Lord of the Rings trilogy, Terminator 2 Judgment day, Stars Wars (most of them).
Most heard saying:- Did you try your best? Then that's all that matters.
Highlights so far:- Recently built up a family food hall to be one of the finest in Lancashire and carving out a reputation within the industry for supporting local smaller businesses. I am now bringing this to my new role with Team NP!
Jools: Likes to think he's the boss but knows otherwise.
Likes: Cooking, listening to his old vinyl, shouting rude things at referees when Wales playing rugby, supporting Typhoons RFC, travelling to Wyoming, New York & San Francisco and being servant to Rags and Rosie. Also likes proper food, Yorkies, roasties with gravy and a big breakfast made by Karen. Also likes demolishing things.
Dislikes: Negative people, food on slates, foam, jus or assiette's, anything thrice fried (especially chips) and poncy celebrity chefs. Welephant and the Teletubbies earworms drive him nuts.
Food Heros: Keith Floyd & Julia Child
Fave Car: Audi quattro UR
Trained as: Engineer & Camera Repair Technician
Fave TV: West Wing, Ashes to Ashes, The Young Ones, Spitting Image (original) & Star Trek
Fave Music: Kate Bush & Pink Floyd (old fart) and SKA (pwmp it up rude bway)
Fave Restaurant: The Ship on the Shore, Edinburgh & The Secret Garden at The Wytchery, Edinburgh
Best bit of food tech: Pat & Barb our twin steam jacketed vessels (named after our mum's as they are a couple of old boilers ). Our depositor is pretty cool and our Bostwick food consistometer is something we never knew we needed (or knew existed) 'till we got it
Fave Saying: Everyone wants to be successful until they see what it actually takes
Fave Films: The Hunt For Red October (give me a ping Vassilly), Birdy, Cry Freedom, Trains Planes & Automobiles and Dirty Rotten Scoundrels
Most Heard Saying: "Jools, don't be an idiot" or "Jool's, what the hell are you doing that for"
Highlights so far:
Building NPHQ & getting SALSA accreditation
Helping Start-up and Scaling Food Brands
Winning a Nourish Award in 2020
Sponsoring Typhoons RFC